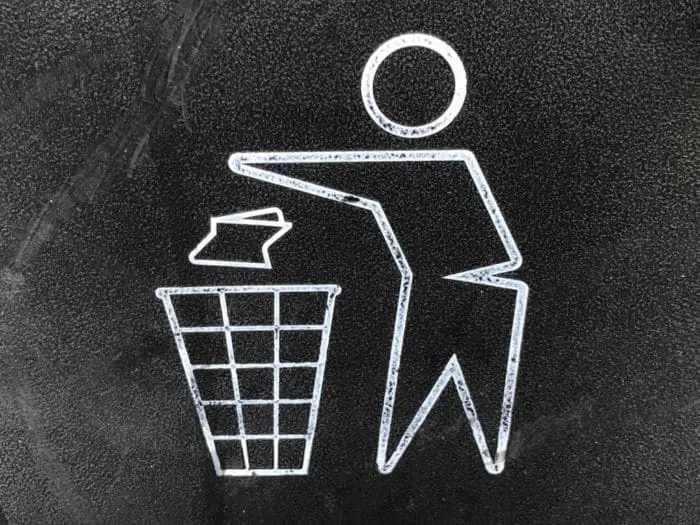 When I cringe after touching my shower curtain, I know something has to change. If your shower curtain is grimy and moldy, you might want to toss it out. But, before throwing it in the garbage, perhaps you'll want to know – can shower curtains be recycled?
Shower curtains cannot be recycled at most recycling plants. This is because shower curtains might be made of PVC, polyvinyl chloride, which has toxic chemicals that are linked to many serious health conditions. However, there are many ways to reuse shower curtains.
If you're looking to fix your grimy shower curtain situation, but you're not sure what to do next, we've got you covered. Let's start with some more details about recycling, then we'll also cover how to wash or reuse your shower curtains.
Can Shower Curtains Be Recycled?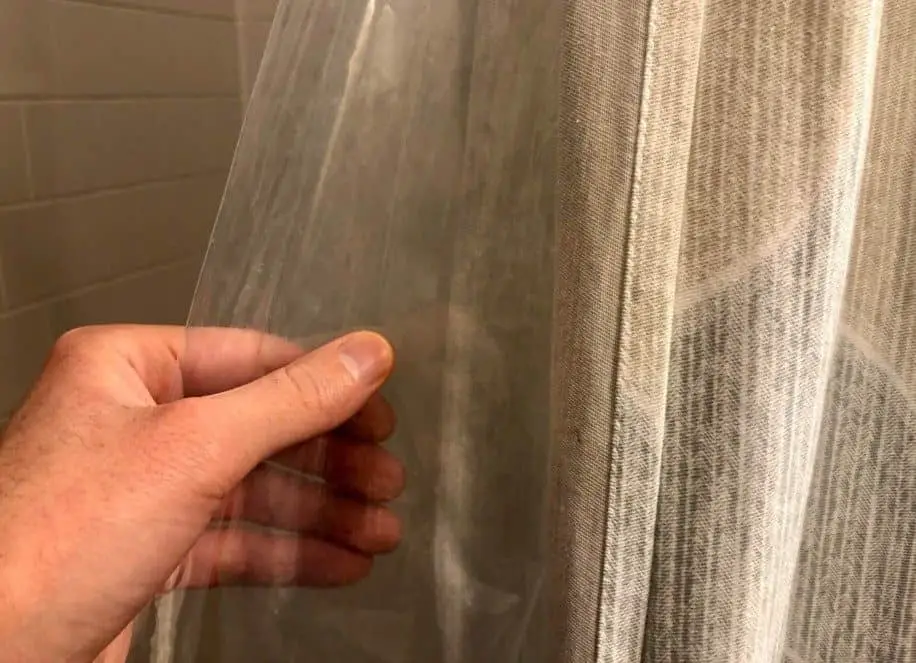 While some areas may have special recycling programs that might accept them, most recycling plants will not accept shower curtains.
Many shower curtains are made out of the plastic material, polyvinyl chloride, which is known as PVC. You'll find that products made with PVC are designated by the number 3, which is accompanied by a triangle with arrows that are associated with recycling.
When exposed to PVC, you may be exposed to chlorine and phthalates. Over time, this can cause problems to your health, including your respiratory system, central nervous system, liver, kidneys, and more.
Because of what it's made out of and the toxic pollution it forms when produced and incinerated, this plastic is difficult to recycle in recycling plants, which is why it's typically not accepted.
Although some stores, such as Target, started cutting down on shower curtains made with PVC back in 2008, this material is cheap, and you can still get curtains made with PVC.
If you're environmentally-minded and don't want to get rid of your shower curtain just yet, let's look at some simple ways to wash your curtain.
How To Wash Your Shower Curtain
If you have a dirty plastic shower curtain, let's take a look at two simple ways to clean it.
How To Wash Your Shower Curtain Using A Washing Machine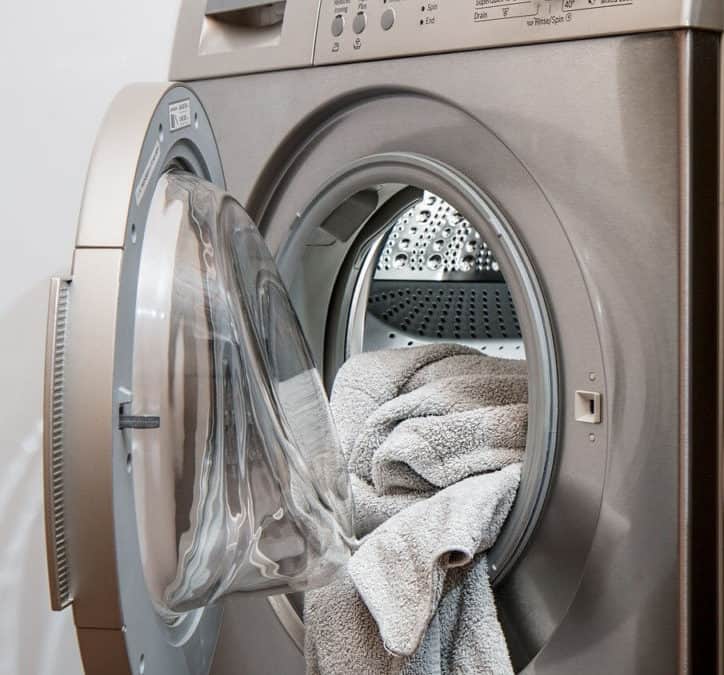 What You'll Need:
Your dirty shower curtain (obviously!)
Two bath towels
Laundry detergent
Baking soda
Here's How:
It's tedious work, but you'll want to be sure that the rings are not attached to your curtains.
2. Put your shower curtain in your washing machine.
It should be pretty painless once you get to this point!
3. Put your towels in the washing machine.
These will help get the grime off of your curtain and keep it from sticking to itself or wrinkling in the wash.
4. Add laundry detergent and baking soda.
Now you can use the amount of detergent you would normally use when washing clothes. If your curtain is really moldy, you can add about a ½ cup of baking soda (or more if you have a larger shower curtain!) in the washer drum.
5. Run your washing machine.
You'll want to use warm or hot water (don't use cold!) and on the delicate cycle. And while you're waiting, it might also be a good idea to clean your showerhead.
6. Hang to dry
DO NOT – I repeat – DO NOT put your plastic shower curtain in the dryer. Take it out of the washing machine and hang back on your shower curtain rod to dry.
How To Wash Your Shower Curtain Without A Washing Machine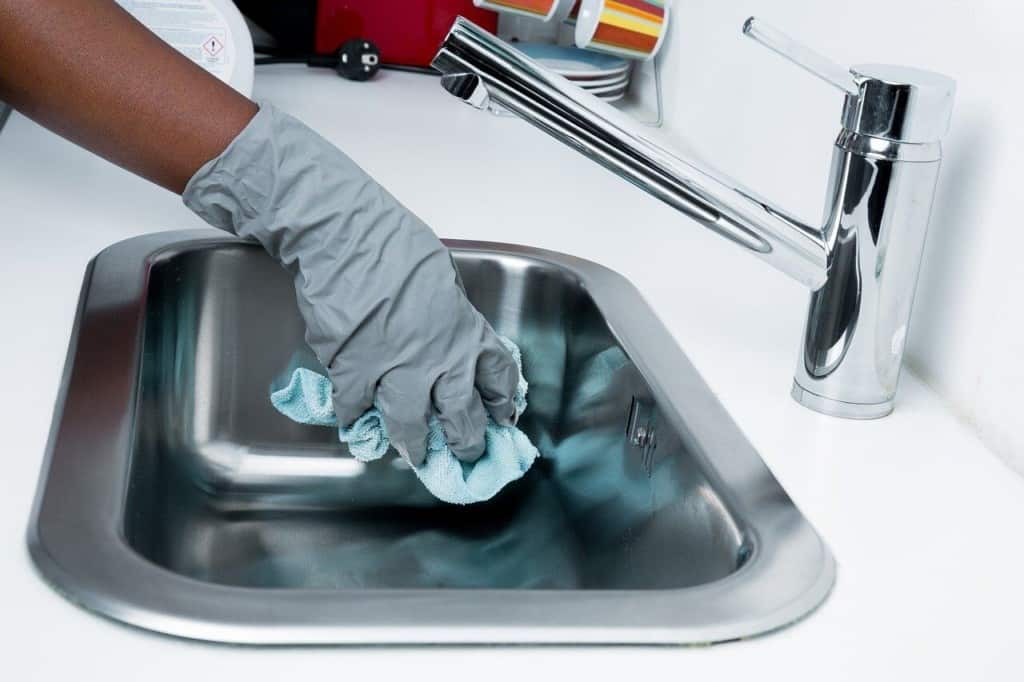 If you're anything like me and would do anything to avoid messing with those shower curtain rings, you might want to clean your plastic shower curtains without removing it from the tub.
However, this might end up taking a significant amount of effort depending on the state of your shower curtain!
What You'll Need:
Microfiber cloth
Water
Baking Soda
Here's How:
1. Dampen your cloth with water and sprinkle with baking soda.
This is actually all you'll really need to clean the plastic curtain!
2. Use the dampened cloth to scrub your entire shower curtain.
No need to get it perfect this first time around as you'll be doing it again. If you're concerned, you can spot test a portion of the curtain to be sure the water and baking soda won't damage it.
3. Rinse your cloth with warm water.
You'll want to get the baking soda out of it. If you want, you can use a new cloth, and dampen it with warm water.
4. Scrub hard stains with the cloth.
Now you can target those stains with your cloth, as well as other patches with a lot of water and baking soda.
5. Rinse the cloth with warm water, and scrub your entire shower curtain.
Do this until the baking soda is removed from your curtain.
If you've decided that you definitely need to get a new shower curtain, here are a few unique ways that you could still use the old one before throwing it away.
9 Ways To Reuse Your Plastic Shower Curtain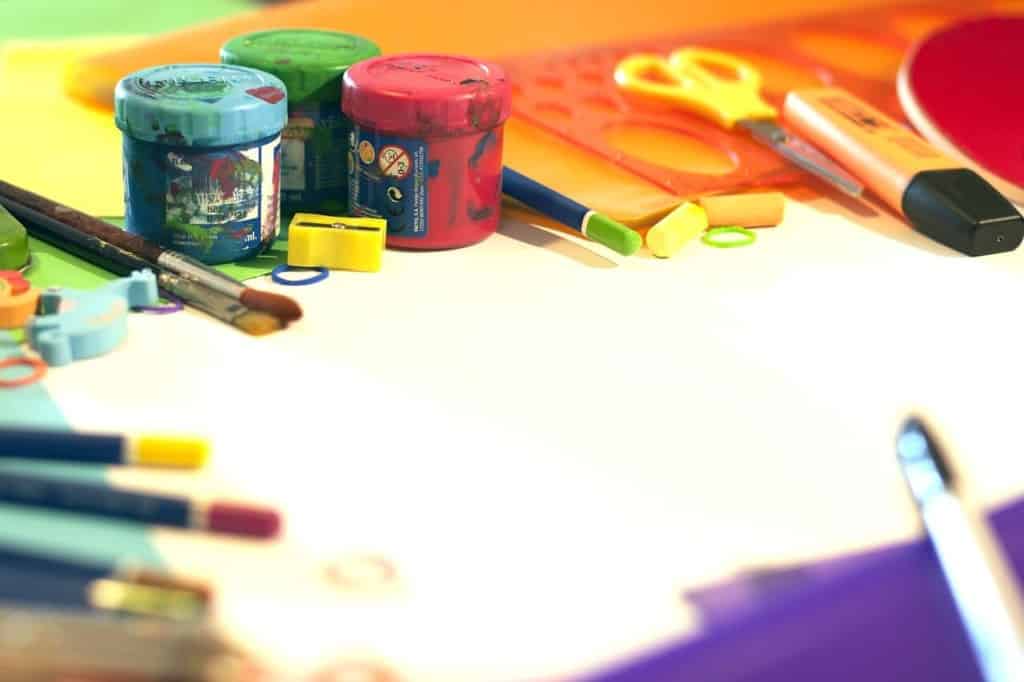 When you get creative and really think about it, the number of ways to reuse your plastic shower curtains are endless. Here are just some ideas to get you started, but don't let it stop you from finding other ways to use it!
1. Save for arts & crafts
If you've ever seen a child with glue, glitter, markers, or other art supplies, you'll know it could potentially lead to a lot of damage. Place that curtain under your table or workspace for an easy cleanup.
2. Catch food under a high chair
Save yourself the trouble of picking up food by placing your curtain under your baby's high chair.
3. Cover patio furniture
If you have furniture outside, you can throw your shower curtain over it to keep it dry in case it rains.
4. Line cabinet shelves
While there are liners specifically designed for shelves, you can also cut up your plastic shower curtain, and use the pieces to keep your cabinet shelves clean.
5. Keep car trunk or back seat clean
If you're transporting something that might get your trunk or back seat dirty (or generally like to keep your car clean), you can line either of those areas with your shower curtain.
6. Keep firewood dry
For anyone that has a stack of firewood outside, you can use your curtain as a tarp to keep it dry.
7. Protect floors while painting
While creating an artistic masterpiece or upgrading your home with a fresh coat of paint, you can use your shower curtain on the floors to keep paint from getting on them.
8. Bring to a picnic
Maybe you're paranoid about sitting on an ant hill or bird poop. You can place your curtain either on the grass or on a picnic table or bench when at the park.
9. Stay dry while camping
My tent comes with a footprint, but even so, you can place the shower curtain underneath your tent in case it rains.
Related Question
Can I use a shower curtain as tablecloth?
You can transform your shower curtain into a tablecloth. Depending on the type of material and design of your shower curtain, you can do anything from simply placing it on a picnic table as an impromptu tablecloth to cutting and sewing fabric curtains into the shape you need.
Do you need a liner with a shower curtain?
You only need a separate liner for your shower if your shower curtains are made out of a fabric that absorbs water. If your shower curtains are made out of waterproof plastic, then you shouldn't need a liner.