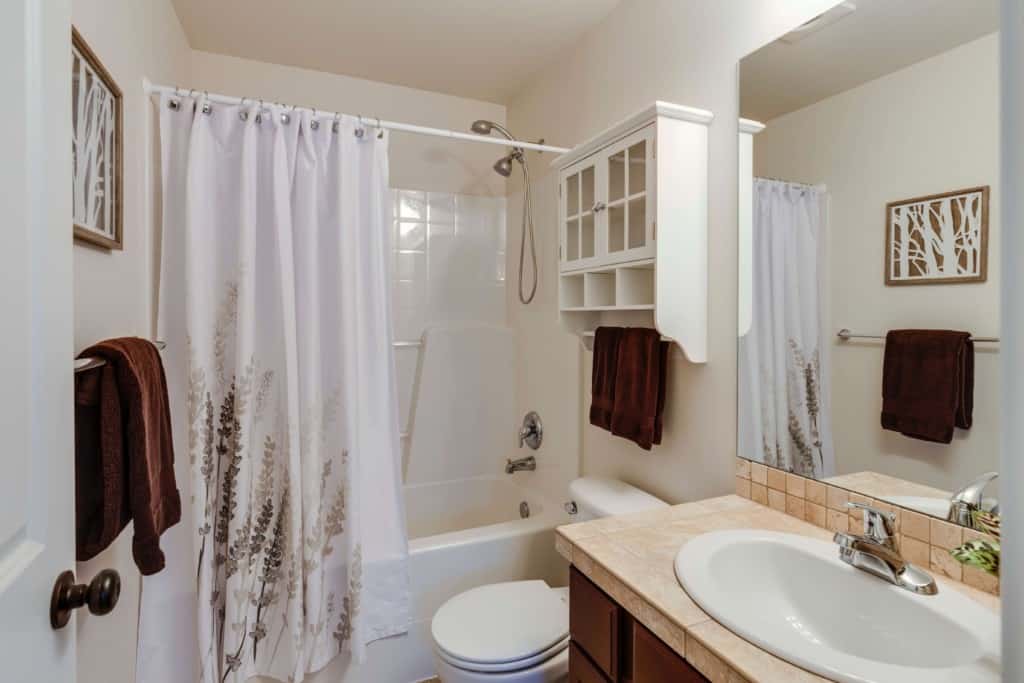 The different types of shower curtain rods are about as numerous as types of showers. With all those options, finding the one you need can be a little overwhelming. So, in this article, we'll give you an overview of the different types of shower curtain rods so you can find the best one for you.
Shower curtain rods have 5 main shapes. They are straight, curved, L-shaped, rectangle, and double. In addition to the shape, shower curtain rods will come as either tension adjustable or fixed. We'll cover these two features in more detail below.
What shower curtain rod you need depends mostly on the kind of shower or tub you have. Next, we're going to dig into the details of each type of shower curtain rod, and when to use each one. Let's get to it!
Types of Shower Curtain Rods
Every shower curtain rod is either tension/adjustable or fixed. Let's figure out what that means before we get into the shapes.
Tension/adjustable means just that the rod is adjustable. This is usually done with a spring inside that allows you to compress it in order to make it fit different bathroom sizes. This makes it pretty versatile and these types of rods are the most common.
A fixed shower curtain rod means that it's not adjustable. These usually come in standard sizes of 41in, 60in, and 72in. These shower curtain rods are great if you have a standard-sized shower, but they might give you trouble if you have an odd-shaped shower/tub.
Now that we've covered that basic distinction, let's dig into all the different shower curtain rod shapes.
1. Straight Shower Curtain Rods
2. Curved
3. L-Shaped
4. Rectangle
5. Double
How to Install a Shower Curtain Rod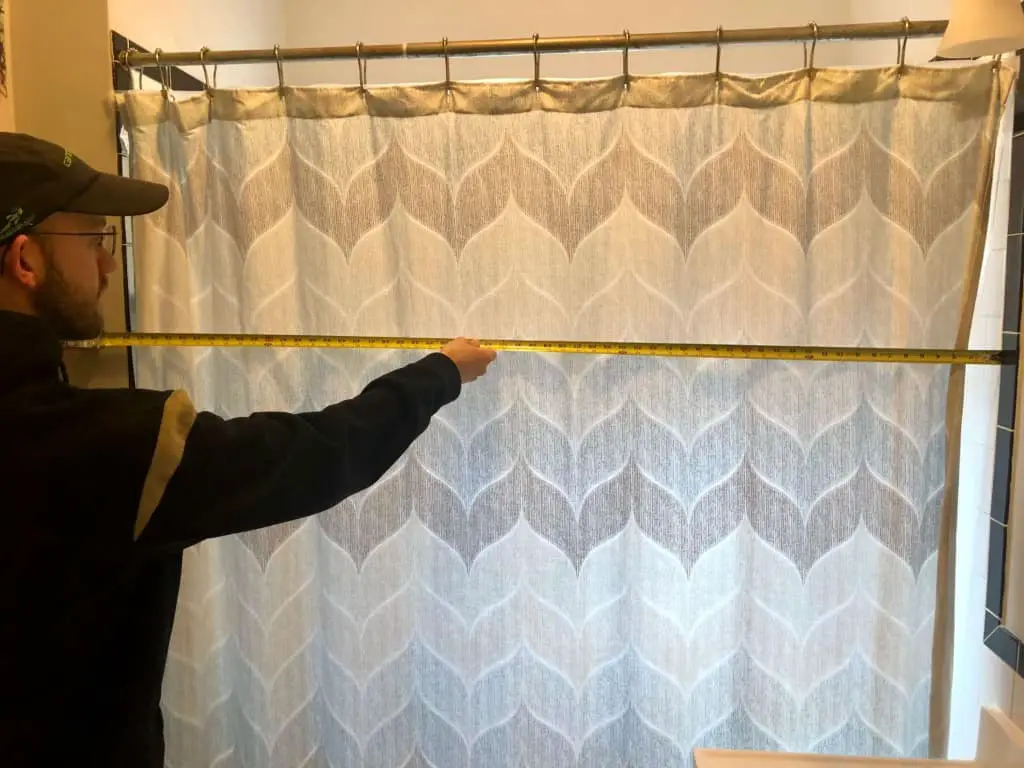 Now that you know what shower curtain rod you'll need for your specific bathroom, you probably need to know how to install it.
Well, here's the breakdown in 3 easy steps.
1. Pick Your Shower Curtain Rod
We've just given you a good foundation for this, and it's arguably the most important step. Before you buy your rod, you need to figure out what kind of shower curtain rod you need.
First, figure out if you need an L-shaped or rectangle shower curtain rod. If not, then you just have to choose for your own personal preference.
If you're fine with your current shower curtain rod and just need a replacement, you can just grab a new one of the same style. If you have a standard shower, but you're interested in giving yourself an upgrade, then consider a curved and/or double shower curtain rod.
To make sure you get the right size rod, you'll need to measure the distance of the two points to which your rod will be fixed. There are three standard shower curtain sizes, which are as follows:
70 x 70 inches
70 x 72 inches
72 x 72 inches
You can learn everything you need to know about these measurements, by reading our guide on picking the perfect shower curtain size.
Once you've got your supplies, you can begin with the installation.
2. Installation
Most shower curtains rods should come with an instruction pamphlet to help you out. But if they somehow missed one, here's a quick rundown.
There are two ways a straight shower curtain rod will be installed: mounted or with tension.
For a mounted rod, you'll have to screw the mount into the wall. When doing this, make sure the center of the mount (where the rod will go), will make the shower curtain high enough. You'll want your shower curtain to hang 1-2 inches above the ground, and don't forget to add about an inch of extra height to make up for the shower curtain rings.
Once the mounts are installed, put the rod in place. Double-check to make sure your mounts are secure and your rod is level before hanging your shower curtain.
For a tension rod, place the end of the rod over the marks you made, then tension out the rod until it's the correct length. Tensioning a rod is usually done by twisting it.
Just like with the mounted rod, make sure it's secure and level. For a tension rod, pull down on it slightly to make sure it doesn't slip. If it does, tighten it a little more. If you live in a rental or an apartment that you don't own, then you'll probably need to use a tension rod to avoid damaging the walls.
Now you're ready to hang your shower curtain.
3. Hang the Curtain
Now that your rod is in place, the only thing left to do is hang your shower curtain.
First, attach all your curtain hooks, there's a ton of different styles, sizes, and shapes, just choose the one that works best for your bathroom.
Next, attach your liner to your shower curtain. some snap together and others just hang from the hooks together, whichever one it is, get them lined up together.
Finally, attach your curtain and/or liner through the hooks. Once your curtain is hooked, slide it around to make sure it's nice and pretty.
The only thing left to do is give your shower a test drive, and by that I mean go take a shower, you probably smell after all that hard work.
Related Questions
How do I choose a shower curtain rod?
The shower curtain rod you should choose depends on the shape and size of your shower. If you have a standard shower, you can get a straight, curved, or double rod. Then, measure the distance between the two walls where the rod will be attached. With this information, you can choose the best option for you.
What sizes do shower curtain rods come in?
Standard shower curtain rods come in 41 in, 60 in, and 72 in. If the rod is adjustable, it will vary from these sizes. Curved rods will also vary because of the curve in the middle. Measure the distance between the two walls to which the rod will be attached, to find the size of rod that you need.