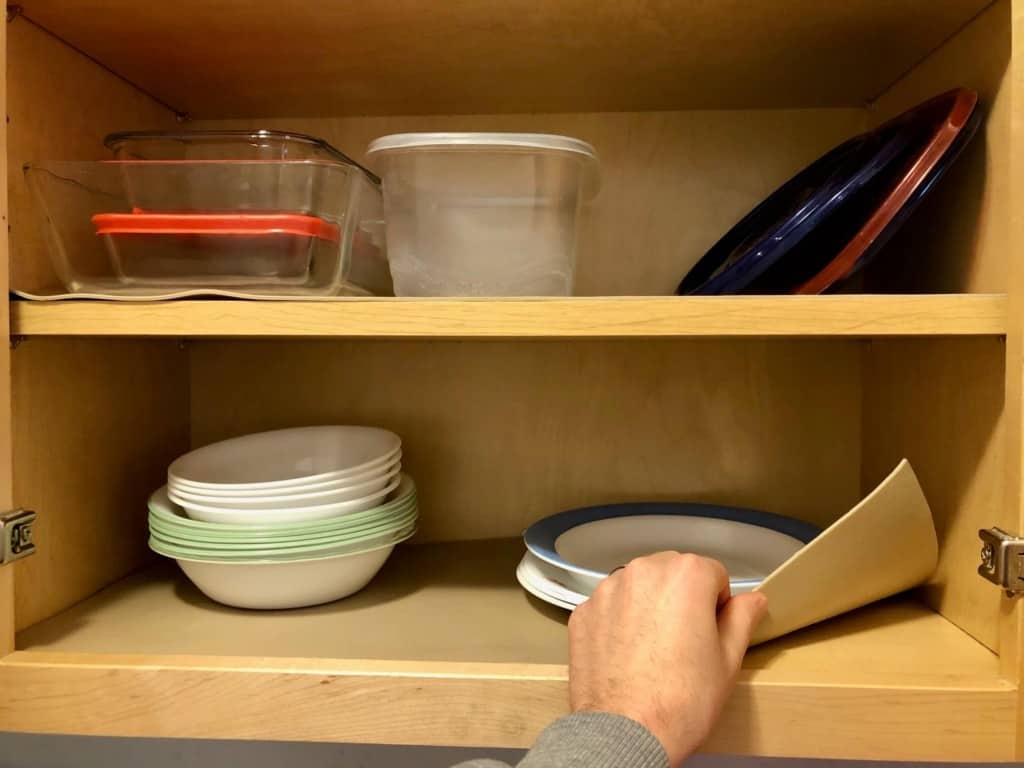 Shelf liners, they're important, but often overlooked. If you've ever wondered if/where you should use shelf liners in your home, then you're in the right place.
Anywhere you need to protect drawers and cabinets from moisture and scratches, cover stains, reduce noise, make cleaning easier, or even add some color and style, you can add shelf liner.
There are several places in your new (or current) home where you should use shelf liners, and this page is my attempt at answering every possible version of "should I line ____ with shelf liner?"
Here's an overview of what we'll cover:
1. Should you Line Kitchen Cabinets / Cupboards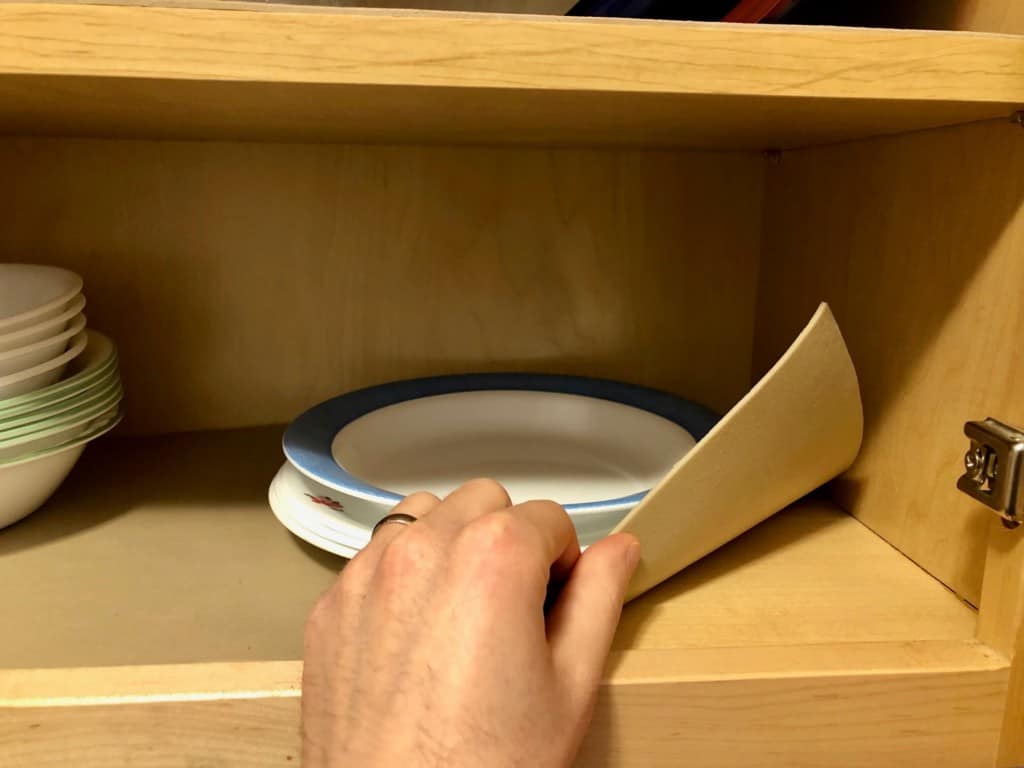 You should use shelf liner in your kitchen cabinets and cupboards. Shelf liner can prevent your pots and pans from scratching up the inside of cabinets. More importantly, it's also easy to install and clean, which can help you have a more hygienic kitchen.
Choosing the best type of shelf liner for your cabinets depends on what you plan on storing in them. It is also a matter of personal preference. For cabinets that will be housing pots and pans or small appliances, a good choice may be a solid shelf liner.
A solid shelf liner will cut down on scrapes and scratches over time as you take things in and out and extend the life of your cabinetry. If you like, you can even cut some pieces of the spongy, waffle-type liner to place between your pots and pans as a layer of protection.
Some of your kitchen cabinets will also be storing food. It is a good idea to cover your pantry shelves with some kind of shelf liner. This will make for easy clean-up in case of a spill, or even cover a shelf that has been soiled in the past and still has a bit of tough to remove yuck on it.
2. Should You Line Kitchen Shelves?
You should use shelf liner to cover your kitchen shelves. Some kitchens might have shelves instead of (or in addition to) cabinets. You might even need to add a free-standing shelf to your kitchen because, let's face it, some kitchens just do not have enough cabinet space.  Extra shelving is a great way to make some more room for storage.
It's a good idea to cover the shelves before you fill them. An adhesive shelf liner could be added fairly quickly. Not only will this protect the shelves, you can even find some with a nice pattern, so if the shelves are open it will add some decoration to your kitchen.
You can change up other areas in your kitchen a bit as well, by adding a decorative liner as a kitchen back-splash. This is a very cost-effective way to spruce up the décor in your kitchen.
3. Should You Line Kitchen Drawers?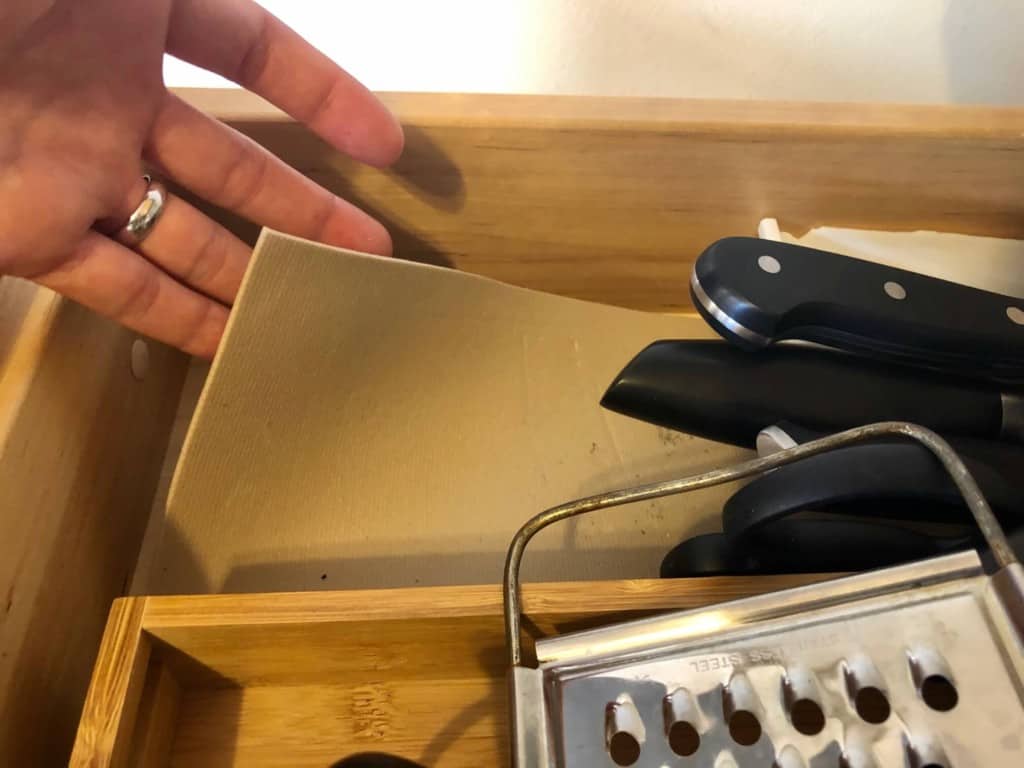 You should line your kitchen drawers with shelf liner. There is a perfect shelf liner for every drawer in your kitchen. You can choose one type of liner for all the drawers, or you can switch it up depending on what is in each drawer.
Utensil drawers are a great place to use a non-adhesive, breathable shelf liner. Its self-gripping texture keeps it in place nicely. Also, it keeps utensils from sliding all over in the drawers, cutting down on damage and scratches. Plus, it keeps the drawers from making so much noise when opening and closing, which is a nice bonus.
Do you have a junk drawer in your kitchen? You know, the one that has everything you don't know what to do with in it. Don't worry, there's a liner for that. Choosing a good solid liner will keep everything from pens and pencils to nuts and bolts from beating it up inside.
4. Should You Line Refrigerator Shelves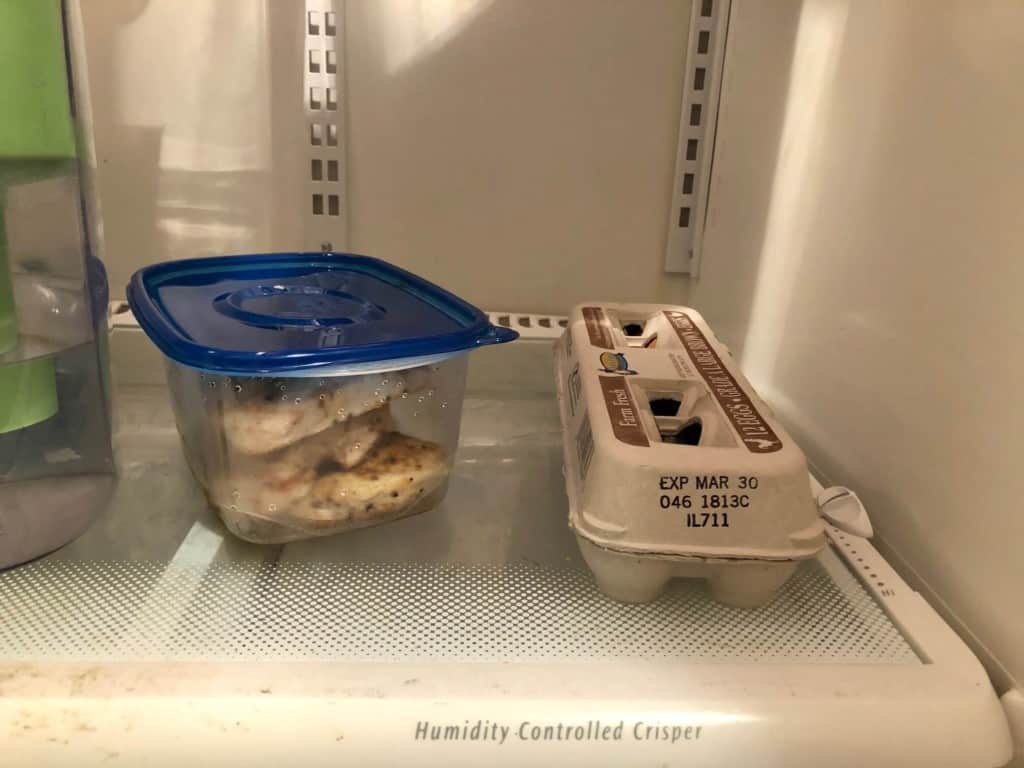 Lining refrigerator shelves with shelf liner can be a great advantage. Refrigerators are notorious for frequent drips and spills. If bending down to clean the bottom of your refrigerator is not your favorite job, installing a shelf liner will be a big help.
Washable shelf liners are available for your fridge in both adhesive and non-adhesive styles. Using them will cut down significantly on the amount of time and effort it takes to keep your fridge clean and germ-free.
Shelf liners can be easily removed and have a durable, washable surface. You can even find some that are dishwasher safe, making the clean-up process even easier.
If you are on a tight budget, you can make some DIY shelf liners from placemats. Just measure them out and cut them to fit your shelves. You can even cut them to fit the drawers for added cleaning convenience.
5. Should You Use Liners in Your Living Room?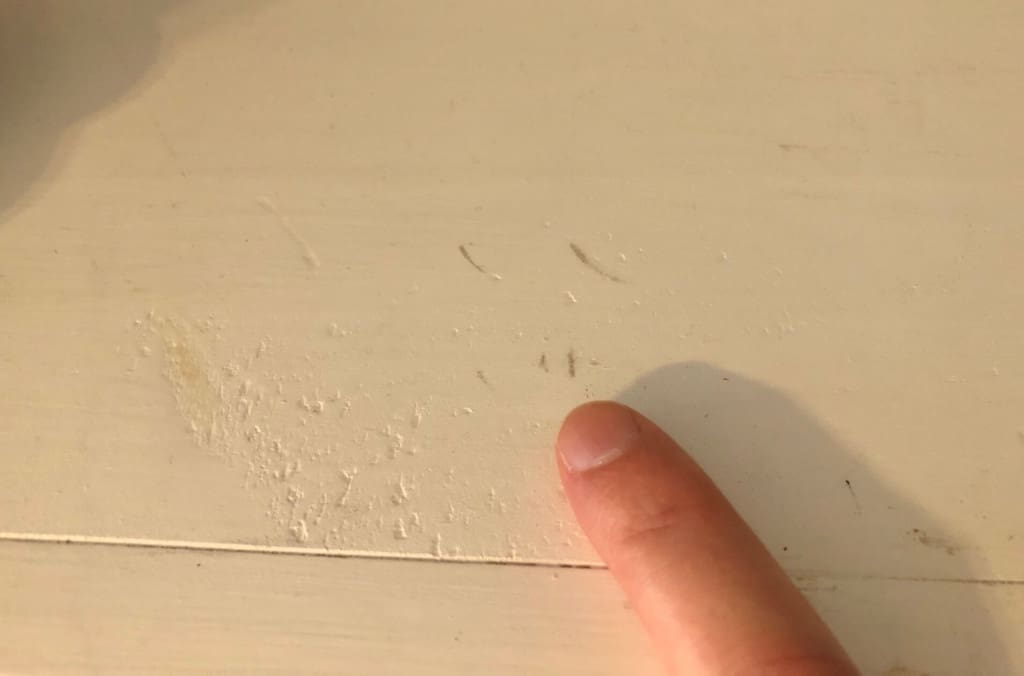 Using shelf liner in your living room can be a good choice, but it does depend on how your particular living room looks. If you have shelves, you could line them. Plus, there are many other things you can do with shelf liner in the living room, some for decoration, and others for practical purposes.
Do you have cubicles by your front door for shoes? You can line those shelves for protection. How about an old ceiling fan or entertainment center? These, too, can be covered with adhesive shelf liner to give them a chic new look.
Lastly, if you have any plants, a piece of shelf liner underneath can protect your furniture from any overwatering damage.
6. Should You Line Dresser Drawers?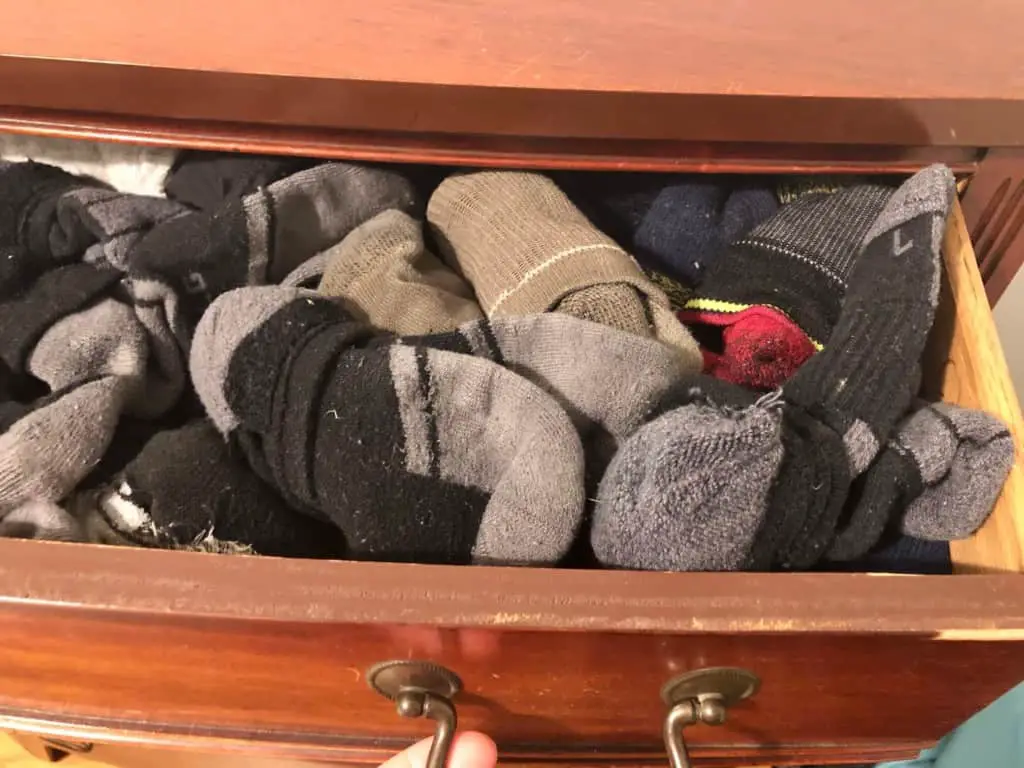 A shelf liner is a great way to cut down on the wear and tear on your dresser drawers. Dresser drawers are essentially secret compartments for everything you need on a daily basis. Remember, dressers are often used for many things other than clothing.
Perhaps you have a drawer that stores your jewelry or your favorite nighttime reading material. Shelf liner will help protect from nicks and scratches to the insides of your drawers.
Adhesive shelf liner can sometimes be applied to the outside or edges of an old dresser to give it some new flair. Also, you can even buy scented shelf liners (*we get commissions on these) to keep your clothes smelling fresh or flowery.
7. Should You Line Closet Shelves?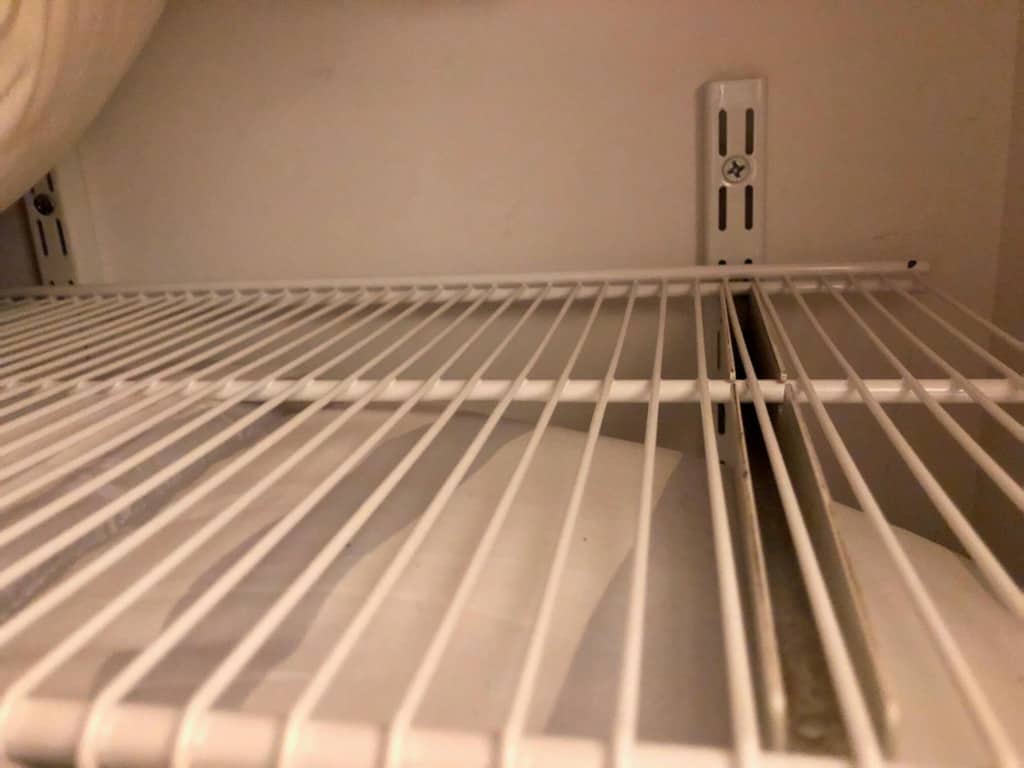 Lining closet shelves with shelf liner can help you solve at least one common problem. There is nothing more frustrating than having small items fall through the cracks of your wire closet shelving. A quick fix for this is a sturdy, clear shelf liner.
Not only are they a good idea for bedroom closets, they also work great in linen and even some pantry closets.
As a tip, since these are usually non-adhesive, sometimes they are hard to keep in place. Punching a small hole in each corner and securing them to the shelf with a zip tie is a great way to keep them from shifting.
8. Should You Line Bathroom Drawers?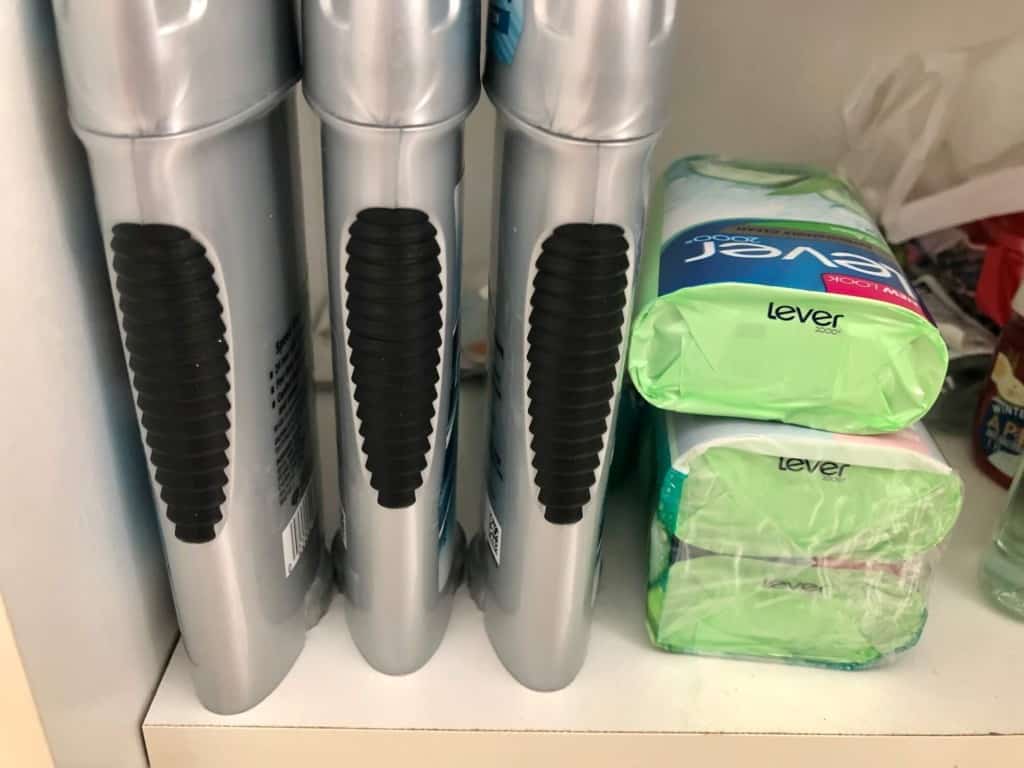 You should line your bathroom drawers with shelf liner in some situations. Lining your bathroom drawers could serve several functions. Perhaps your vanity is not very new and has a lot of wear and tear. Rather than purchasing a whole new one, you can line the drawers and preserve its life. 
A cushioned drawer liner may serve as protection for your hair dryer, curling iron, or electric razor. Maybe you have powder or lotion in some of the drawers. This would also help these items from rolling around so your drawers stay neat and tidy.
Lastly, a solid liner will help protect from any accidental water damage if you happen to leave a drawer open while washing up or brushing your teeth.
9. Should You Use Shelf Liner in Your Home Office?
You should use shelf liner in a few places in your home office. Using a clear shelf liner to protect the top of your desk from unexpected coffee spills, or even just scratches and dents will help you get the most out of your office furniture.  
Using an adhesive shelf liner with a pattern is a great way to resurface an old filing cabinet, giving it a totally new look. You can even use some of the same paper to add matching decoration to your desk, or even your chair. If you go this route, you'll want to consider if your paper will stick to wood.
As a bonus, adhesive shelving paper can be used to cover the top of your laptop. This will help protect one of your most valuable pieces of office equipment.  
10. Should You Line Laundry Room Shelves?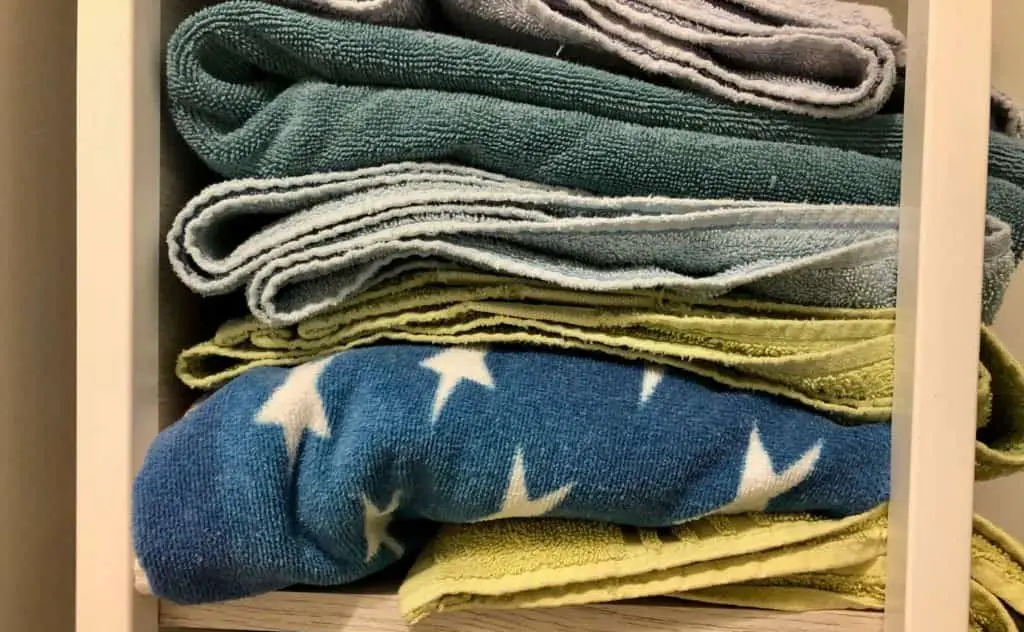 Lining laundry room shelves can provide a good cushion to prevent bouncing from machine vibration. As with other rooms in your home, shelf liner can also be used to line the shelves and cabinets nicely.
In addition, you can place the liner on top of the washer or dryer to create extra space to store laundry detergents and cleaners. In the event of leakage, you can just throw the liners in the wash.
11. Should You Line Garage Shelves?
Lining the shelves in your garage can also be a nice upgrade. Like closet shelves, some garage shelves have metal racks with big gaps in them. Shelf liners will help make these shelves solid, which can make them easier to use.
A heavy-duty, smooth plastic (or textured) shelf liner will allow you to keep small containers organized and sturdy. Also, if you have any paint, chemicals, or even art supplies stored there, any spills can be easily wiped up.
Bonus Shelf Liner Uses (For Creative Minds)
If you are creative, shelving liner is a great way to add some pizazz to your shelves, dressers, or a T.V. stand, or even give them an entirely new look.
They are available in many patterns and sizes, and can be cut to fit any space you may need to protect. You can even use them for a few unconventional things if you think outside the box.
Shelf liners are great to use in campers to keep your dishes from shifting and breaking during travel.
Also, they can be cut into small pieces and, because of their grip bottom, used as jar openers, placed under bowls or cutting boards, or even used as placemats for crafting, and then you can just throw them in the washing machine.
Lastly, shelf liner can be used as a laminate for pictures or important documents to keep them free from moisture
Different Types of Shelf Liners
Paper Shelf Liners
These are the most basic type of shelf liner. They are pretty thin and sometimes difficult to keep in place, but if you are looking for something relatively inexpensive these could do the trick.
Non-Adhesive Liners
Non-Adhesive liner does not stick to the surface that it is protecting. However, it is ideal for drawers and cabinets, because its grip keeps it in place. Also, because it's easy to remove and replace. Some are even machine washable for easy cleaning.
They are usually made of PVC and come in a wide variety of surface types for many uses. Some surface options are:
Breathable
Smooth
Solid
Textured
Adhesive
Adhesive shelf liner has a backing that sticks to the surface that it's protecting as opposed to using its grip bottom to stay in place. This type of shelf liner is also ideal for protecting many surfaces in your home.
In addition to protection, adhesive shelf liner is also great for covering, decorating, or resurfacing items that may have become dirty, damaged, or outdated. It is easy to wipe clean or change if necessary. Some great surface options for adhesive shelf liners are:
How to Install a Shelf Liner
Calculate how much liner you will need.
Remove all items from the shelves.
Clean the shelves with warm water and a cloth.
Place the shelf liner on a solid surface, face down.
Mark the size you need to cut.
Cut the liner, using the measurements that you made.
Place the liner on the shelf and mark out any notches with a pencil.
Trim if necessary.
Place the liner on the shelf and put the items away.
Here is a short video to help you with the process.
Conclusion
Shelf liners are an easy addition to any room in your home. They are not super expensive, and the small investment will save you from spending money replacing furniture and shelving. Also, it will help cut down on cleaning time and save your energy for more important tasks.
With a bit of imagination and some elbow grease you can have every room in your home covered, protected, and a bit more stylish, simply by adding some shelf liner.
Related Questions
How do I keep my shelf liner from moving?
Adhesive shelf liners are able to stay in place on their own. Most non-adhesive shelf liners have a rubber aspect on the bottom, which helps them grip the shelf or drawer they are on. A good idea for keeping solid shelf liners in place with no grip is double-sided tape or adhesive glue.
Are shelf liners worth it?
Shelf liners are definitely something that can make your life easier as a homeowner or renter. They are relatively inexpensive and can be used to prevent larger expenses by protecting your cabinets, kitchenware, furniture, and other belongings.